Are you intrested?
Admission Open: +91-7900818781
Program Overview
Key Highlights
Get a Masters degree in Data Science online
Placement Assistance
Interaction with industry experts
UGC Recognised
Personalised support & mentorship
Chandigarh University alumni status
"In this era of cut-throat competition, we equip ourselves with the latest teaching pedagogies to facilitate advanced learning. We render a curriculum designed by industry and academic experts and to make our students industry-ready. With our top-notch industry-academia interface, we prepare our students to excel in their respective careers."
- Satnam Sandhu, Chancellor
Program Curriculum
Go through the detailed description of topics for each specialisation, along with credits and personalised learning methods.
Top Subjects You Will Learn
Fundamentals of Programming (R/Python), Data Visualization, Statistical Methods, Design & Analysis of Algorithms
Job Opportunities
Data Analyst, Data Scientist, Product Analyst, Machine Learning Engineer, Business Analyst
Who Is This Program For?
The program caters to: Engineers, Marketing & Sales Professionals, Freshers, Data Professionals, Domain Experts, Software & IT Professionals
Minimum Eligibility
Passed BCA/ Bachelor Degree in Computer Science Engineering or equivalent Degree or Passed B.Sc./B.Com./B.A. with Mathematics at 10+2 Level or Graduation Level
Master of Science in Data Science
Earn a UGC-recognised Master of Science in Data Science online degree from NAAC A+ accredited Chandigarh University.
Learn from the best faculty and industry experts
Become a part of the Chandigarh University Alumni network.
Build job-ready skills to get ready for the workforce.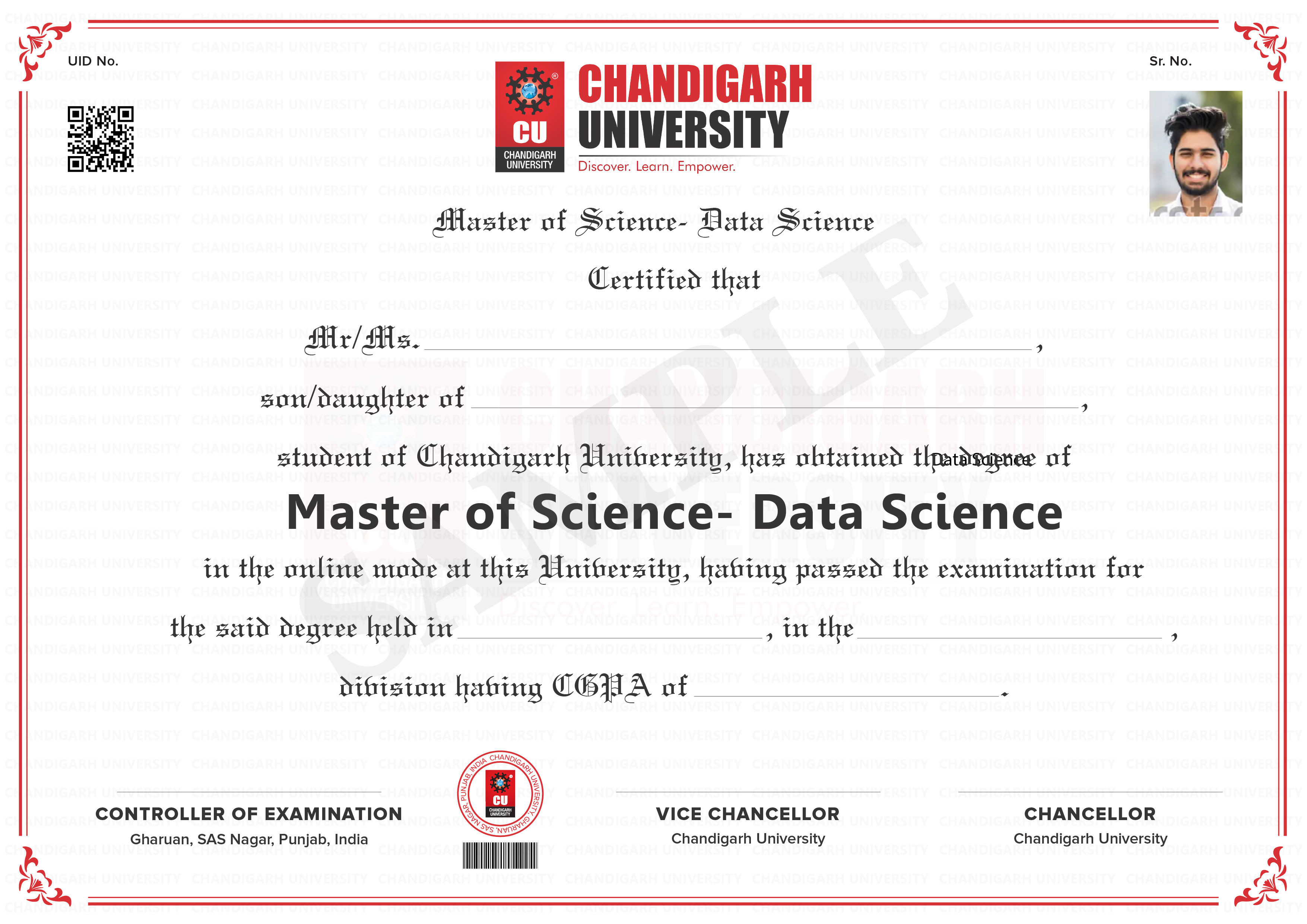 Syllabus
Learn more about why this degree can help you upskill for today's professional environments, the subjects you will learn, course credits and much more.
Advanced Data Structures
Database Management System
Communication Skills/ Soft Skills
Fundamentals of Programming in Python
Fundamentals of Research Methodology
Mathematics for DS/ML
Design and Analysis of Algorithms
Optimization
Data Visualization
Data Engineering
Applications of Business Analytics
Data Mining and Data Warehousing
Machine Learning
Web Applications/ Web Technology
Cloud Computing
Minor Project (Software Dev)
Cloud Native Development
Deep Learning
Advanced Machine Learning
Information Retrieval
Project II
200+
Case Studies & Projects
The upGrad Advantage
Job Track

6 months internship
Soft Skills & Aptitude Coaching with Interview Preparation and Resume Building
Access to Job Portal with 5000+ openings every month
Personalised career advice from industry mentors

Self-Employment Track

6 months live business project
Certification from Government of India's Start Up India Learning Program
Access to upGrad's Entrepreneurship Program with a chance to network and learn from industry leaders

The Competitive Exam Track

Prepare for exam while you get a degree at an additional cost
Get career assistance upto three years after graduating from the program
Get free aptitude and soft skills training and personalised mentorship after first year
Career Counselling
Receive personalised career guidance to take the right path for your professional goals.
Profile Feedback
Individual inputs and tips to enhance your profile and resume structure.
Interview Preparation
One-on-one mock interviews held by industry experts along with detailed feedback for the same.
Top Industry-level Projects
Real-life industrial projects and internships sponsored by the best companies.
Admission Process
Step 1: Complete the Application form
Step 2: Get the offer letter
Step 3: Block your admission seat & start the course
Learners can pay by year or semester. Easy financing options available.
Annual Payment: INR 60,000 * 2 (Annual payment * 2 years) = INR 1,20,000
Sem-wise Payment: INR 30,000 * 4 (Sem-wise payment * 2 years) = INR 1,20,000
Empowering learners of tomorrow
What's Included in the Price
Features/Benefits
Pursue M.Sc. in DS without leaving your job
Latest curriculum formulated by industry experts
Alumni status from Chandigarh University
Upskilling with convenient learning hours